My Wedding Photos
Mehndi Application - 21st February 1998 Afternoon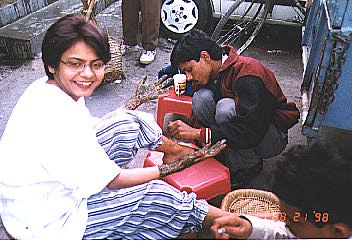 .
The henna is being applied in the street by the mehndiwalas. Since I did not have much time, there are two guys working on my feet. They have finished the hands. For a bride, both sides of the hand halfway up the arm is normally applied. For other festivals it is customary only to stain the palms. Also traditional is to have a Mehndi ceremony at home, where the bride's friends and female relatives usually sing and dance and get Mehndi applied. As usual I had no time so I had it done by the roadside where "Munna" the specialist has his kiosk. Ravi had escorted me to the market and took the photo. Which is not the done thing. I am certainly not supposed to be with him!!! Its supposed to be women only *grin* but we sneaked out separately to get some time together.
Waiting for the Mehndi to dry - 21st February 1998 -later that afternoon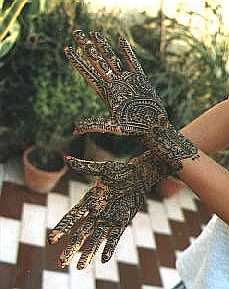 Mehndi is used to cool the body down during summer. It leaches the heat from the body. But in winter, my hands and fingers were freezing.
The complex designs are made with a paste of henna leaves powdered and mixed with water, lime juice and sugar. Sometimes coffee or tea powder is added for color. Traditionally my fiancé's name will be written into my right palm, which he then later looks for after the marriage. The design continues on the back of the hand. The feet are patterned up to the ankles.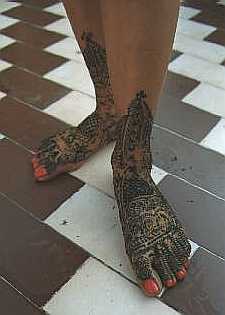 Comments or suggestions please

email me